Four Seasons Multi-Functional Simple Shoulder Baby Carrier Baby Sling
Description
Four seasons multi-functional simple shoulder baby carrier baby sling is made of polyester and cotton and is soft and easy to clean. Our lightweight baby carrier feature with a mesh vent to keep baby cool and breathable.
Shoulders baby straps can be divided into AIR seasons and comfortable breathable models, more choices to meet the needs of different ages baby travel.
The baby's legs should be M-shaped.
The International Association of Hip Dysplasia points out that the science baby carrier should be present a natural M-shaped when the baby sit in the baby strap, which is conducive to the baby's hip joint development, the unreasonable strap will put pressure on the infant's articular cartilage, so that Abnormal hip growth leads to O-legs.
Shoulder, waist, back 3 heavy scattered force is not tired for a long time
Ergonomically designed to distribute the baby's weight to the shoulders, waist and back, distracting and relieving comfort. Allowing parents to respond at home or on the go.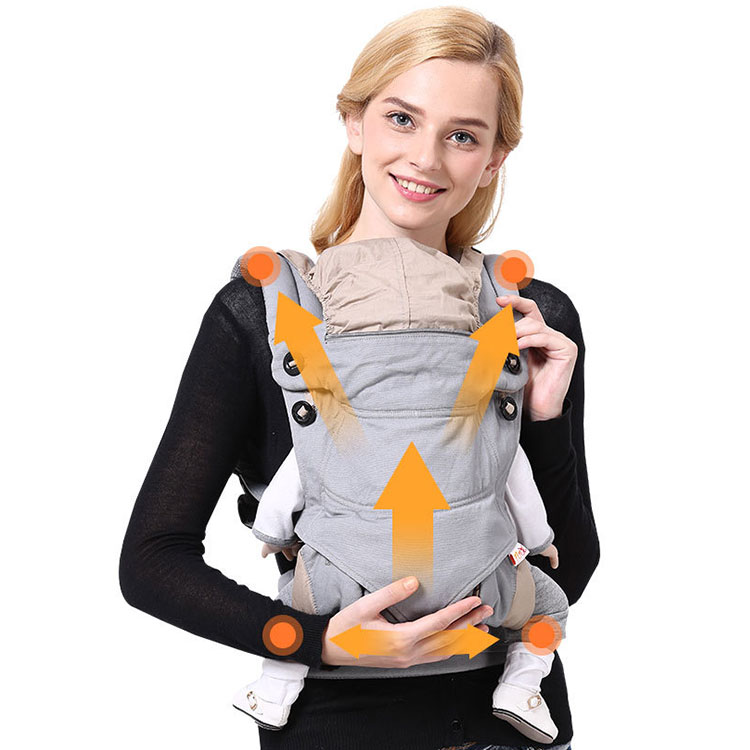 Large waist can also be used
A snap-on belt that fits snugly against the waist and relieves waist pressure. The waist size is from 56-120cm makes it easy to adjust the size.
Can be accommodated to increase the sunhat
It can be folded, and the baby can be better protected by snapping according to the size of different baby.
Four-back method, Mommy can operate
Easy to use, you can enjoy parent-child time.
Light and easy to store, more convenient for travel
The net weight of the ergonomic baby carrier is about 500 grams, about the weight of two apples. After folding, it is only 10.5 inches in size. It can be easily put into the Mummy bag, and it is very convenient to carry.